Welcome to Ritual & Smoke!
Are you ready to reach the world beyond the Veil? Are you ready to take your relationship with herbs to a deeper, witchier, place?
I am offering this class during Samhain season because, at this time of year, the Veil between this world and the Otherworld is thin. And smoke is the magic that helps us to transcend the Veil more than any other.
We will work with looking beyond the Veil, connecting with our Ancestors and those who've gone before us, and using smoke to altar our perception.
Smoke is true plant magic. I invite you to join me in a deep exploration of its powers.
In this 6-week course, you will learn:
Absolutely everything about smoking herbs

How to select and blend herbal smoking mixes

Literally how to smoke -- pipes, cigarettes, etc.

How to know which herbs are safe to smoke or burn

How to make witchy herbal incense

How to work with herbal powders in spell craft

How to use smoke for energetic clearing

How to use smoke for fumigation

All about strewing herbs

How use smoke magic in ritual

How to craft powerful rituals for yourself

Recipes for unique, magical smoke creations

7 witchy herbs: their magical & medicinal qualities
The course consists of:

A weekly Portal which opens on Fridays. Inside the Portal:

Video workshops demonstrating techniques & crafts
PDFs chock full of info
Recipe cards
A Materia Magica sheet for 1-2 witchy herbs

2 live Q&A's with me

A week for integration and catching up on course work

The Gathering Space -- a space to chat with myself & fellow students about the course material and our witchy pursuits
Exercises and assignments to strengthen your intuition and plant witch skills
BONUSES! Such as...

Beyond the Veil: Connecting with the Otherworld

Making Friends: How to Go Deep with a Plant Ally

Creating Sacred Space: Building your Personal Altar

Crafting Meaningful Ritual for a Meaningful Life

Herbal Smoking Safety Guide

On the Path to your Ancestors (This is your Graduation Gift)
A Few of the Crafts You'll Make:
Ceremonial Smoking Blend

Grace & Uplift Smoking Blend

Sacred Space Burning Blend

Ancestral Remembrance Wand

Dead Bones Herbal Powder

Living Bones Herbal Powder

A Witch's Home Strewing Mix

Witch Herbal Incense

Striking Clear Fumigation Blend
Unforeseen benefits to taking this course:
Frankly, learning to make witchy crafts yourself will save you a lot of money.

And -- if you are working with herbs for magic -- you've got to make them yourself or they won't be very potent (unless they were gifted to you)

Once you've got these skills mastered, you won't be lured by watered-down herbal or magic books or teachings

You'll impress your friends with your witchy skills and awesome smoke crafts (or scare away those family members you never liked anyway!)

You'll start making rituals out of every small task

But you'll definitely start using ritual to live your life with deep intention
Confidently craft herbal smoking blends for any need or desire
You'll feel alive with a sense of magic

You'll step into your power as a magic-making plant witch
What this class does not teach:
Tobacco

Cannabis

Anything illegal or addictive

At-risk herbs such as white sage or palo santo

Appropriative smudging practices (we will talk about issues of cultural appropriation and smudging)
Simply put, this material is not gathered in this way anywhere else. This course compiles years of clinical herbal study, medicine-making, magic-making, and ritual craft. It will give you a fresh perspective on herbs you might already know, and it will introduce you to herbs that are rarely covered in herbalism courses. It is a truly unique way to begin or expand your herbal practice.
VIP Option
What do you need to achieve deep, lasting transformation?
Sometimes, a course isn't enough. Sometimes, a loving-yet-firm guide makes all the difference.
The VIP package gives you the additional support you need for Ritual & Smoke to be an unbelievably profound experience:
Weekly 30-minute coaching calls during the 6 weeks that the course is live

Identify your magical strengths and areas of intrigue

Create a plan for growing into your magical powers

Personalized assignments to develop the aspects of your intuition and magical abilities that you're most intrigued by

Custom herbal preparations designed just for you

Magical support, feedback, encouragement, and accountability
If you're looking for one-on-one care in your herbal journey, this is a great way to do it.
Next Steps:
Enroll in this magical course

You'll receive a shopping list to prepare your home apothecary and kitchen.

Go shopping and fill your cupboards with magical ingredients.

Your first portal will open on Friday, October 18th!
Your Instructor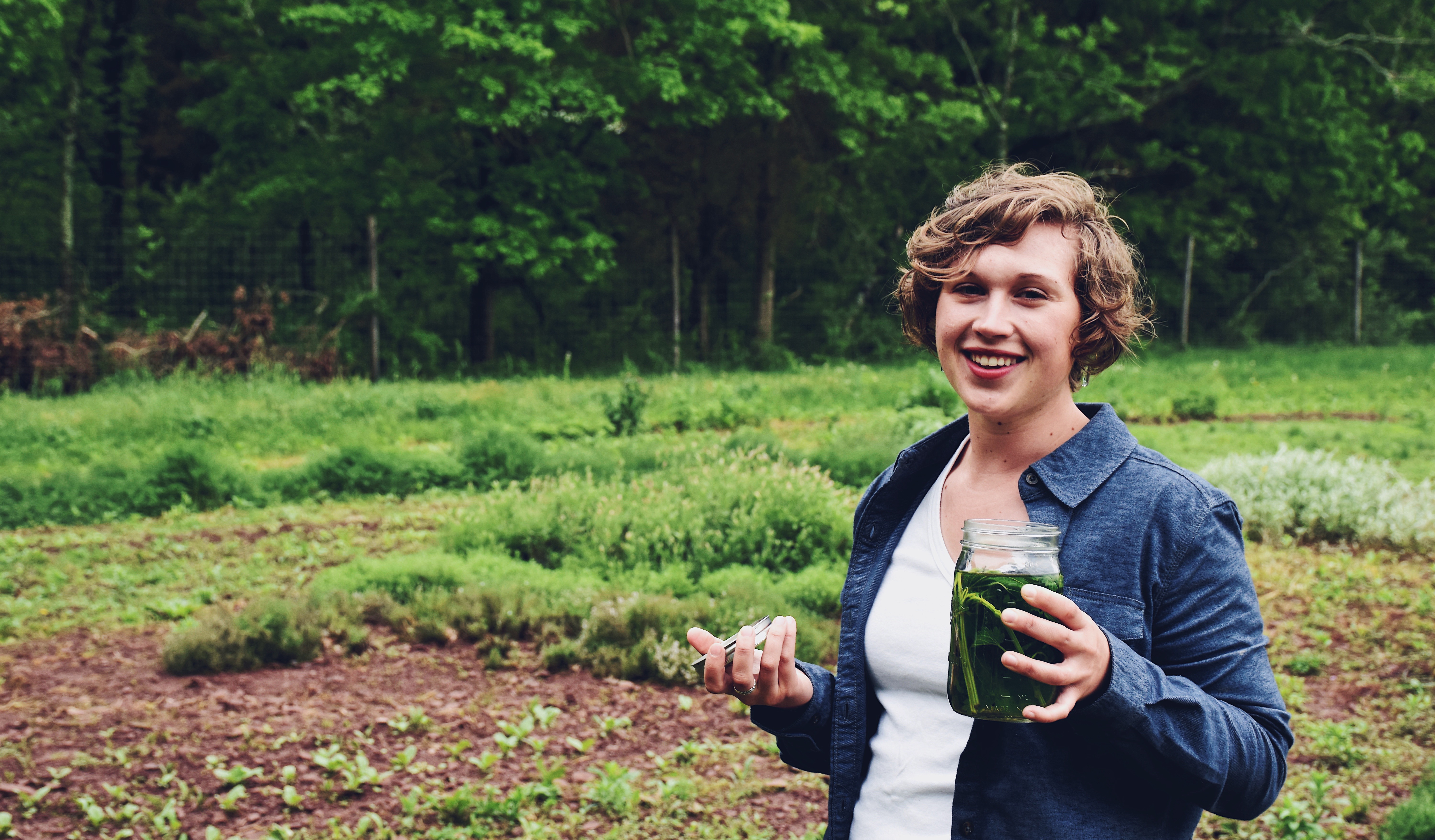 Hi, Amanda here!
I'm glad you've joined me — I love making plant magic with new friends.
I believe in the power of herbs and ritual to change your life. I believe in your power to change your life.
I've been working with herbs for about 10 years now -- first as a grower, then as an herbalist, deepening and expanding my study to include a variety of traditions and approaches. While I believe in the power of herbs for medicine, and I certainly work with them that way often, it is herbal magic & ritual that has truly captivated my heart.
Working with herbs in a ritual way has helped me to deepen my relationship with plants and get to know them as friends & allies.
When you call upon a plant to make magic with you, you invite that plant into your energy space to transform the material world together. This is so powerful, so intimate, and so exciting.
It has helped to strengthen my intuition and fill my world with a sense of wonder, enchantment, and joy. It is that sense of enchantment and joy that I seek to share through the Summer Solstice Celebration.
Are you ready to make plant magic together?
Yours,
Amanda
P.S. Things you should know about me: I seriously love bevs, I don't like measuring, and I heartily believe in gnomes.
Frequently Asked Questions
When does the course start and finish?
The course starts now and never ends! It is a completely self-paced online course - you decide when you start and when you finish. The first Portal will be opened on Friday, October 17th and the last Portal will be opened on Friday, November 21st, just before the holidays.
How long do I have access to the course?
How does lifetime access sound? After enrolling, you have unlimited access to this course for as long as you like - across any and all devices you own.
What if I am unhappy with the course?
We would never want you to be unhappy! If you are unsatisfied with your purchase, reach out in the first 7 days and I will give you a full refund.
What if I get behind?
This is a move-at-your-own pace course. You work through the material as you can. There's even a week in the second half of the course that gives you time to integrate and catch up. There is a fun momentum to be had when working through the course with the group: you will be able to comment and chat with each other. And, of course, there will be 2 live Q&A's with me during the course. But there is no pressure to work through the material in given time frame.
I've never worked with herbs before. Will I be confused?
If you're new to herbs, this is a great way to get started! All herbs, crafts and processes will be thoroughly explained, and you'll be able to ask me questions at any time through the Gathering Space or our live Q&A's. And the best part is, you'll be embarking on your herbal journey in a magical, fun, and intuitive way.
I already work with herbs. Will I be bored?
That's awesome! If you're already making your own potions and remedies, this is a great way to deepen your experience. We will be approaching herbs from a witchy, energetic perspective, and we'll be focusing on smoke magic, which is not commonly discussed in herbal curricula. You'll learn the witchy side of herbs you may already be familiar with, and you will learn unique herbal crafts.
I don't want to smoke. Will I feel left out?
You absolutely do not need to smoke to get deep magical transformation from this course. While it's true that some of the info (like how to pack a pipe) may not apply to you, most of it will even if you do not smoke at all. You can still mix the same blends and simply burn them. You get all the magic that way.
How will I know that herbs we use are safe for me?
We will have a lesson on herbal safety. Ultimately, this is a question that you have to answer for yourself on a case-by-case basis, but I will give you the questions to ask to keep yourself safe.
Will I be able to ask you questions?
Absolutely! We will have 2 live Q&A's together. The Q&A's will be recorded so you can watch them later if you can't attend live. And you're welcome to email me questions ahead of time if you can't attend live. There is also "The Gathering Space" -- a space for discussion for each lesson, where you can ask questions of myself and chat with other students.